Blue Demons Hold Xavier to 2 Points Over Last 4:47, Miss Two Opportunities To Tie
Senior Day was almost an incredibly satisfying memorable day, as the DePaul Blue Demons fell short, yet again, to the 3rd Ranked Xavier Musketeers.
It was Senior Day, and if you want to read some things about our graduating Seniors, feel free to read the preview.
Things looked dire in the early going as Marin Maric picked up 2 early fouls and Max Strus picked up 3 fouls with 8:43 to go in the 1st Half.  Strus picked up 2 fouls on one play when he clearly charged into the Xavier defender and then kept talking to the referee.
In the arena, I was pretty sure that it must have been a block for Strus to be so upset, but after having time to watch multiple angles of the various replays, it was about as clear a charge as you will ever see.
When your two most reliable offensive players are out of the game, and you see that the Demons were down by 12 (22-10), it sure felt like game over.  However, the lineup of Hanel, McCallum, Cyrus, Roberts, and Cain, scored on 5 consecutive shots, closing the gap to 2 points (25-23).
This stretch allowed DePaul to make it to the much needed break, only down by 6.
The second half started with everyone expecting Xavier to go on a run.  It never really came.  The most they ever got up was 11 points with 11:38 to go.  The Demons just stuck around, waiting for their chance to close the gap.
That chance occurred in the final 4:47 of the game with DePaul down 8.  The Blue Demons locked the Musketeers down and pecked away at the score.
The soul basket by the X-men was this beautiful back screen curl by JP Macura.
O'Mara hit him perfectly, and Cyrus and McCallum failed in communication.
Then DePaul methodically cut into the lead with a jumper made by DePaul's player of the game, Brandon Cyrus, with 3:57 left.  Cain made a glorius 3 point play with 2:23 to close the lead to 3.  McCallum made the front end and bonus of a one-and-one to get it to 1.  Macura made his shot, which brought the game to the final series of plays that determined the outcome.
Milking the shot clock under 10 seconds, Strus panicked on an interior pass throwing the ball away.
On the next series, Strus got the steal, ran the floor, tried to decide what to do, and the ball got knocked to Cyrus, who got savagely blocked.  It would've been a perfect opportunity to do an up and under type play using the basket to shield the ball.
Xavier throws the ball away, which leads to the last DePaul possession down by 3.
Interestingly, Coach Dave Leitao, chose not to call a timeout.  I had no problem with the non-timeout since, most likely it would've ended with a rushed last second shot.  Instead, Cain took the ball to the right corner getting off a decent shot.  He missed, Cyrus rebounded the ball, and instead of turning to take a 3 point shot, he passed it to Max Strus, who was shooting 1-8 from 3-point land on the day.  Predictably, Strus missed at the buzzer, and DePaul lost in the last minute for the seventh time this season, and fifth time in Big East Play.
The Setup
There were quite a few blue seats, but it felt pretty full, especially with Xavier fans.  Both fan bases got loud at different points in the game.
Gambling Corner
Obviously, DePaul beat the spread, which was 7.5,  Kenpom expected a 7 point Xavier victory.  If you had the under, you were a happy human.
The Player of the Game:  Brandon Cyrus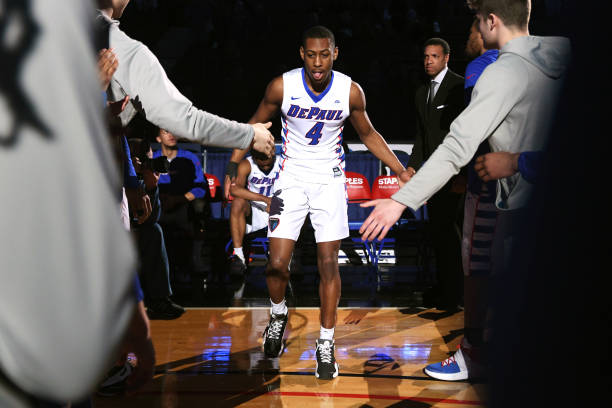 Xavier won the game, and generally, I award this to a player on the winning team, but Brandon Cyrus had an absolutely awesome game.  I have bashed his offense all year, but today he had it working.  He had a game high offensive rating of 135, and considering his ample usage, it was spectacular.  He scored nearly a 1/3 of all of DePaul's points.
He played 37 minutes and put up a career high 20 points on 8-14 shooting including 2-4 from the 3 point line.  He had 5 rebounds, 2 assists, and zero turnovers.  Without his efforts, this game would've been over before halftime.
Something that I never thought I would say was, "I wish Brandon would've taken the last shot."  Of course, when a team finds a way to lose, over and over and over and over and over again, whoever didn't miss is the one you want to take it.
The Good
Eli Cain
Cain had a very steady game, with 4 assists and 1 turnover.  He had an above average offensive rating of 106, but in a game when Strus was clearly not himself, Cain's calming influence nearly won the game.
The Ball Handling
DePaul only had 11 turnovers.  5 of which came via Max Strus.  The rest of the team had 11 assists and only 6 turnovers.  The last time around against Xavier, the Blue Boys had 23 turnovers.
The Bad
Max Strus
By far, Max Strus's worst game of the year.  He had an Offensive Rating of 48 (100 is average).  He was frustrated.  Strus lost his temper in the first half which resulted in him picking up a charge and a technical foul resulting in 3 fouls.  This was the same guy who went for 33 the last time DePaul played Xavier.
An awful 1-9 from 3 point land doomed the Demons.
Tre'Darius McCallum
Happy Senior Day Tre!  3-11 wih 4 rebounds and 2 assists and a turnover.
He played 36 minutes but had very little impact other than this awesome sequence in the 1st half.
Team Rebounding
DePaul was out rebounded by the Musketeers, 39-27.  This made up for the turnover advantage by DePaul.  Reasons behind the descrepancy include, Strus's absence, Maric's 1st have foul trouble, and Jaylen Butz being clearly ineffective.  I am pretty sure that Butz is coming off of a knee injury.  The staff has been super quiet about him and it has lead to lots of speculation on Butz's future.  Well, guess what, maybe he has had a knee injury.  He was not explosive whatsoever.  In 9 minutes of play he had zero rebounds, 2 turnovers and 4 fouls.
One rebound between Butz, Joe Hanel, and Paul Reed in 17 total minutes of play.  That killed the Demons.
Other
Gutted That Peter Ryckbosch Couldn't Lace Them Up One More Time
6th Year Senior Peter Ryckbosch was dressed to the nines for the evening, and had a knee brace.  I felt so bad for the guy.  From the outside, he has always looked like a positive influence.  He and Joe Hanel, along with other walk-ons have at times brought a fun culture, a supportive culture, and a thoughtful culture.  I will miss both him and Hanel more than most departing Demons.
Tweets of the Game
Progress?
I'll Have What He Is Drinking
Looking For Just a Tiny Bit of Accountability, That's All
Been a While Since DePaul Beat a Top Ten Opponent
Never Forget, "You are What Your Record Says You Are" -Bill Parcells
I Want to Leave it With a Nice Tweet From Paul Steeno About What Leitao Said About Hanel and Ryckbosch.  They will be Missed.
Conclusion
We let another top team off the hook.  We expected to lose, and we should have won.