Xavier Travels to the South Loop to Take on DePaul
The Setup
DePaul plays the Xavier Musketeers on Saturday, March 3rd at 11:00 am Central at the newly renamed, Wintrust Arena in Chicago's South Loop.  It will be carried on Fox (Channel 190 on Comcast) and on the Score (Radio 670).
Xavier comes into the game with 26 wins and 4 losses ranked #3 in the AP poll.  Only 3 losses in Big East play, twice to Villanova and once to Providence (their only loss of the year in a game decided by 10 points or less.)
Your DePaul Blue Demons are coming of a disastrous offensive performance at Creighton.
Senior Day
It will be Senior Day for the Blue Demons.  It will be a little bittersweet, because 5 guys are on their way out.  We have had one guy for 6 years, another for 4 full, a 1st year walk-on who use to be a manager, a JUCO transfer in his 2nd year, and one graduate transfer.  Quite an eclectic group.
Peter Ryckbosch
From St. Ignatius High School, Peter is finishing his 6th Years with the DePaul basketball program.  He is going to graduate with his Master in Nursing this year.  The fact that he had two major knee injuries, which kept pushing his eligibility along probably contributed to his career choice.
The best way to describe Ryckbosch is this, he was at DePaul before Billy Garrett Jr. got to DePaul, and he is leaving a year after Garrett Jr. graduated.  Amazing stuff.
He played his first game on November 9th, 2012, three days after Barack Obama was re-elected, and pulled in 2 rebounds while picking up 3 personal fouls.  2 Juniors from that year were Cleveland Melvin and Brandon Young, crazy.  Ryckbosch picked up his first career points 8 days later against Austin Peay.
He played in the most games, 27, during his second year of eligibility, 2013-14, his true Sophomore year.
His career high of 8 points occurred on November 9th 2013 against Grambling St.
He hurt his knee missing the 2014-15 season.
He hurt his knee against missing the 2016-17 season.
Assuming he plays, the Xavier game will be his 89th game that he will have appeared.
Oliver Purnell was his head coach for 3 seasons!
Dave Leitao has been his head coach for 3 seasons.
He never attempted a 3 point shot in his entire career.
He most likely has had the most teammates and more coaches (between assistants and head coaches) of any player in DePaul History.
Peter Rychbosch, a true legend of DePaul Basketball.
Joe Hanel
From the mean streets of Savage, Minnesota, Joe Hanel came in as a walk-on, and eventually made himself a starter for most of the 2016-17 season, through buying into the Dave Leitao program.
Assuming he plays against Xavier, it will be Hanel's 81st appearance for the boys in blue.
He scored his first points for the Demons on December 7th, 2015 against Chicago State.
He reached his career high of 12 points twice during last season.  First against St. John's on January 16th, 2017, and then again against Marquette on February 4th 2017.
With Marin Maric, Paul Reed, and Jaylen Butz joining the squad and Rychbosch being healthy again, Hanel has eased into his role as the emergency center/forward.
Among my favorite memories of both Hanel and Rychbosch was when they worked together with Cory Dolins and David Molinari to form the Bench Mob.  This mob of fun were one of the more creative celebratory groups in the history of the program, during the 2014-15 season.  It was cool seeing a group celebrating together.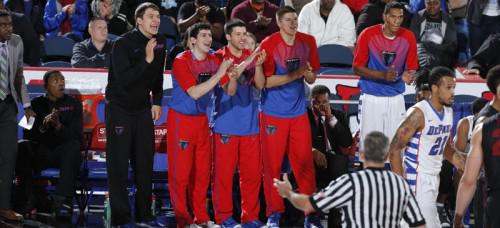 Here is a great article on the bench mob from the dnainfo.com/chicago .
I will miss those guys.
Tre'Darius McCallum
McCallum, from Myrtle Beach, South Carolina, transferred in from a JUCO in Iowa after spending a season at a JUCO in Wyoming.  His first love was football, and it took sometime to transition to basketball.
He has started every game for the Blue Demons over the past 2 years.  Quite a bit of durability.  His Offensive Ratings have been almost exactly average over that period of time, sporting a 99.8 last year, and 101 this year.
His career high was against Marquette on February 4th, 2017 with 21 points in a loss.  This writer has frequently complained about his lack of defensive fundamentals.  He seems to play by instinct versus by discipline.  Unfortunately, the Demons only could develop him over 2 seasons.
But hey, here is a great defensive play by my main man!
Marin Maric
The Graduate Transfer from Split, Croatia via Northern Illinois University has been a pleasure to watch this year.  Oscillating between being dominate and frustrating has been a common occurrence.
Among the starters, Maric has had the highest offensive rating of the year thus far, with a 109.8.  He has shown the ability to score from inside with baby hooks and post-moves, and from the outside with a sweet stroke.  He is the Best pure shooter on the team, leading the team in free-throw percentage at nearly 85%.
I love his vision.  I love that he is not afraid to run the fast break.  Some of my favorite memories are of him leading the break.
And here is a nice dunk!
Maric was the consensus Team MVP for 4 games this year, including conference wins against St. John's in New York, and Providence in Rhode Island.  He keyed both of these games.
Tobias Dwumaah
Tobias worked his way from team manager to Walk on this season.  Congrats to him and his tremendous attitude.  Many of us have dreamed of player D1 basketball, he lived it.
He got into 3 games this year, and actually scored during the Central Connecticut game on December 6th, 2017.
Gambling Corner
The line is currently Xavier by 7.5.  Kenpom expects Xavier to win by 7.
Recent History
DePaul had Xavier on the ropes in the first meeting of the year.  I called it, DePaul's Stupid Xavier Loss.  The Demons were ahead by 16 in the 2nd half and just fell apart as they turned the ball over 14 times in the last 17 minutes.
The Demons only win in the new series was during the inexplicable start to the 2015 Big East campaign, when DePaul won their 1st 3 games of conference play.  DePaul won on the road 71-68.  So according to my fingers, the series has gone 9-1 for XU.
Fun Facts
Jesuits
Founded in 1831, Xavier is the 6th oldest Catholic school in the US.
John Boehner went there
Smoking his Camel Extra Lights
The Current Flavor of the Musketeers
Who Should Scare the Blue out of Us?
Best Player:  Trevon Bluiett
Trevon Bluiett. He is a strong all around player.  6′ 6″ 198 lb. Senior.  Shoots 43.6% from 3 point land.  Kenpom.com has him on the Big East All-kenpom.com team.  He had 16 points the last time the Musketeers played the Demons, even after sitting up the first 5 minutes of the game.  Not his best performance, but they still won.
Other Characters
JP Macura
MVP of Xavier vs. DePaul Part I.  He went 5-11 from the field and 8-8 from the free-throw line, along with 5 assists and zero turnovers for an Offensive Rating of 144.  Great work.
He shoots 34.8% from 3 point land, which is a little below D1 average.
Tyrique Jones
6'9″ Sophomore, who grabs 10% of all available rebounds on the offensive side.  Block him out.  Makes 63.9% of his 2 pointer, layups and dunks.  Has not attempted a 3-pointer all year.
Karem Kanter
A 6'10" Turkish killer.  Transferred in for his Senior year from Wisconsin-Green Bay.  Younger brother of NBA starter Enes Kanter.  Nice all around big man skills.
Well Rounded, totally awesome team
Xavier is like another version of Villanova on the offensive side (6th best nationally), and a top 80 team on the defensive site.  They are 14th overall in 2pt percentage.  They are the 9th best Free throw shooting team, get to the free-throw line a lot, and they shoot 37.5% from 3 pt. land, which is really, really good.  Pick your poison.
How does DePaul Matchup?
Not looking good.  Let's go to the tail of the tape.
Offense
Xavier has a top 6 offense.  8 of their top 9 players have an offensive rating above 100 (the gold standard.)  The X men have a quality 9 man rotation.  The Demons have 3 rotational guys who generally have a plus 100 rating.  Advantage Xavier
Defense
Surprisingly, DePaul's defense is rated better than Xavier's.  Xavier is very average at stopping 2's and 3's, but they are excellent at blocking out on the defensive glass.  Xavier rarely fouls.  The Musketeers do not force many turnovers (other than the 23 that they forced the Demons into last time.)
DePaul usually makes their opponents turn the ball over, however, Xavier is careful with the ball.
Advantage Xavier
In Conclusion
Xavier should win.  The X-men shoot better in all facets, are taller, and have a deeper bench, but they are going to play in the hostile environment of the Wintrust Arena.  Oh wait, more Xavier fans will be there than DePaul fans?  Dammit.  But hey, kenpom.com is giving DePaul an 25% chance of winning!
It's Senior Night/Morning!  Maybe the Demons will catch the Musketeers sleeping.